Agent Name
Cupriethylenediamine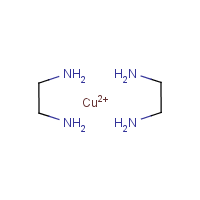 Synonyms
Bis(1,2-ethanediamine-N,N')copper(2+); Bis(ethylenediamine)copper ion; Bis(ethylenediamine)copper(2+); Bis(ethylenediamine)copper(2+) ion; Copper(2+), bis(1,2-ethanediamine-N,N')-, (SP-4-1)-; Copper(2+), bis(ethylenediamine)-, ion; Copper-ethylenediamine complex; Cupriethylene diamine; Ethane, 1,2-diamino-, copper complex; Komeen; Koplex aquatic herbicide; [ChemIDplus] UN1761
Category
Organic Compounds, Metal Salts
Description
Purple liquid with an ammoniacal odor; [HSDB] Bluish liquid with an amine-like odor; [MSDSonline]
Sources/Uses
Used as a cellulose and cotton solvent; Older pesticide: fungicide and molluscicide; [HSDB] Classified as a herbicide and agricultural chemical; [ChemIDplus] Used to dissolve cellulose products; [NJ-HSFS]
Comments
A strong irritant; May cause corneal injury; [HSDB] A skin, mucous membrane, and severe eye irritant; May cause asthma and corneal injury; [CAMEO] A corrosive substance that can cause injury to the skin, eyes, and respiratory tract; A lachrymator; May cause severe corneal injury and permanent vision impairment; May cause skin and respiratory sensitization after prolonged contact; Targets liver and kidneys; [MSDSonline] See "Copper." See "Ethylenediamine."
0.01 mg/m3, respirable fraction (Cu, inorganic cmpnds)
Explanatory Notes
The Guide in the Emergency Response Guidebook is for "Cupriethylenediamine, solution."
MetHgb is secondary toxic effect
Hepatoxic (a) from occupational exposure (secondary effect) or (b) in animal studies or in humans after ingestion
Diseases
Occupational diseases associated with exposure to this agent:
Processes
Industrial Processes with risk of exposure: