Agent Name
Fluoroacetic acid
Major Category
Other Classes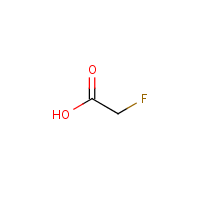 Synonyms
2-Fluoroacetic acid; Acetic acid, fluoro-; Acide-monofluoracetique [French]; Acido monofluoracetio [Italian]; Acido monofluoroacetio [Italian]; Cymonic acid; Fluoroacetate; Fluoroethanoic acid; Gifblaar poison; HFA; Monofluorazijnzuur [Dutch]; Monofluoressigsaure [German]; Monofluoroacetate; Monofluoroacetic acid; [ChemIDplus] UN2642
Description
Colorless solid; mp = 33 deg C; [Hawley]
Sources/Uses
Toxic component of poisonous South African gifblaar and other plants; [Merck Index] Used to make other chemicals; [CAMEO]
Comments
A corrosive substance that can cause injury to the skin, eyes, and respiratory tract; Can be absorbed through skin; Adverse effects on the cardiovascular system, CNS, and kidneys resulting in cardiac and renal failure; [ICSC] Emergency treatment: "Sodium fluoroacetate." [HSDB] See "Sodium fluoroacetate."
Explanatory Notes
VP from ChemIDplus;
Hepatoxic (a) from occupational exposure (secondary effect) or (b) in animal studies or in humans after ingestion
Other Information
No other related information on this agent was found.