Agent Name
Oxygen difluoride
Major Category
Toxic Gases & Vapors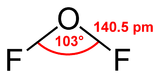 Synonyms
Difluorine monoxide; Difluorure d'oxygene [French]; Difluoruro de oxigeno [Spanish]; Fluorine (di-)oxide; Fluorine monoxide; Fluorine oxide; Oxydifluoride; Oxygen fluoride (OF2); [ChemIDplus] UN2190
Description
Colorless gas with a peculiar, foul odor. [Note: Shipped as a nonliquefied compressed gas.]; [NIOSH]
Sources/Uses
Used as an oxidizer for rocket fuels; [ACGIH]
Comments
Animals exposed to concentrations above 0.5 ppm experience pulmonary edema and hemorrhage. Laboratory workers developed severe headaches after exposures to parts-per-billion levels. [ACGIH] Causes lachrymation; [ICSC] Contact with gas or liquefied gas may cause burns or frostbite; [CAMEO] Fluoride levels should be monitored in chronically exposed workers. [HSDB] A corrosive substance that can cause pulmonary edema; [ICSC] See "FLUORIDES."
Excerpts from Documentation for IDLHs
Human data: Oxygen difluoride is a strong irritant to the entire respiratory tract and causes pulmonary edema and hemorrhage when inhaled for a few hours at 0.5 ppm [Deichmann and Gerarde 1969].
Explanatory Notes
Odor threshold from AIHA;
Diseases
Occupational diseases associated with exposure to this agent: