Major Category
Biological Agents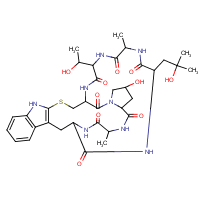 Synonyms
Phalloidin, 7-(4-hydroxy-L-leucine)-; Phalloine; [ChemIDplus]
Sources/Uses
"Oligopeptide similar to phalloidin." [ChemIDplus]
Comments
"Phalloin and gamma-amanitin were detected within the 1st day and phalloidin within the 2nd day in the urine of rats after the administration of amanita phalloides extracts." [HSDB] Intraperitoneal LD50 (mouse) = 1 mg/kg; [RTECS] See "Phalloidin."
Hepatoxic (a) from occupational exposure (secondary effect) or (b) in animal studies or in humans after ingestion
Other Information
No other related information on this agent was found.