Agent Name
p-tert-Pentylphenol
Major Category
Other Classes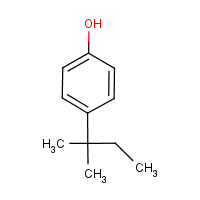 Synonyms
4-(1,1-Dimethylpropyl)phenol; 1-Hydroxy-4-(1,1-dimethylpropyl)benzene; 2-Methyl-2-p-hydroxyphenylbutane; 4-(1,1-Dimethylpropyl)-1-phenol; 4-t-Amylphenol; 4-tert-Amylphenol; 4-tert-Pentylphenol; Amilfenol; Amilphenol; Amyl phenol 4T; Pentaphen; Phenol, 4-(1,1-dimethylpropyl)-; Phenol, p-tert-pentyl-; PTAP; Ucar amyl phenol 4T; p-(1,1-Dimethylpropyl)phenol; p-(alpha,alpha-Dimethylpropyl)phenol; p-t-Pentylphenol; p-tert-Amylphenol; para-tert-Amylphenol; tert-Amylphenol; [ChemIDplus] UN2430
Description
White solid; [HSDB] Colorless or beige solid; [CAMEO] Off-white flakes; [MSDSonline]
Sources/Uses
Used to make oil-soluble resins and organic mercury compounds; Has been recommended for use as a germicide and fumigant; [Merck Index]
Comments
1% solution is a severe eye irritant tested in rabbits; [RTECS] Corrosive to skin, based on animal studies; [eChemPortal: HPVIS] A corrosive substance that can cause injury to the skin, eyes, and respiratory tract; Inhalation may cause chemical pneumonitis; Can be absorbed through skin; [MSDSonline] See "Phenol."
Explanatory Notes
The Guide in the Emergency Response Guidebook is for "Alkyl phenols, solid, n.o.s. (including C2 - C12 homologues)."
Other Information
No other related information on this agent was found.