Agent Name
Phenylmagnesium chloride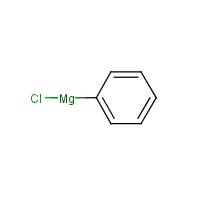 Synonyms
Chlorophenylmagnesium; Magnesium, chlorophenyl-; [ChemIDplus] UN3207
Category
Metals, Organic Compounds
Description
Solution in 73% tetrahydrofuran: Dark liquid; [MSDSonline]
Sources/Uses
Used as a Grignard reagent and in organic synthesis (hydrocarbons, alcohols, ketones, organic acids, amines, silicones, boranes, pesticides, and organotin compounds); [HSDB]
Comments
Reacts with water evolving toxic and flammable gases and heat; [Merck Index] Reacts violently with water; Extremely flammable; An irritant; May cause serious eye injury; May cause liver injury; Can be absorbed through skin; [MSDSonline] See "Cyclohexylmagnesium chloride" and "Methylmagnesium chloride."
Explanatory Notes
The Guide in the Emergency Response Guidebook is for "Organometallic compound solution, water-reactive, flammable, n.o.s."
Hepatoxic (a) from occupational exposure (secondary effect) or (b) in animal studies or in humans after ingestion
Other Information
No other related information on this agent was found.