Major Category
Toxic Gases & Vapors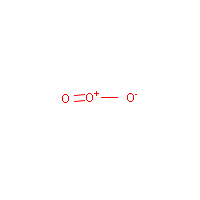 Synonyms
Triatomic oxygen; [NIOSH] UN1955
Description
Colorless to blue gas with a very pungent odor; [NIOSH]
Sources/Uses
Occupational exposure from welding fumes; Also used as a disinfectant in water treatment and as a bleaching agent in food, textile, and paper processing; [Levy, p. 409] ". . . Gas metal arc and gas tungsten arc welding produce the highest ozone concentrations, especially when aluminum is used as a base metal." [Welding, Brazing and Thermal Cutting. NIOSH Criteria for a Recommended Standard. Publication No. 88-110:33,1988] TWA ozone concentrations exceeded the ACGIH TLV at a pulp and paper plant construction site. The source was the electrostatic precipitators on the operating boiler stacks located upwind from the construction site. [Appl Occup Environ Hyg. 1999 Apr;14(4):203-7]
Comments
Like phosgene and nitrogen dioxide, ozone is classified as "less soluble" relative to "more soluble" irritant inhalants like ammonia and chlorine. The less soluble vapors are more likely to cause potentially fatal pulmonary edema without the signs of severe upper respiratory injury. (See Comments for phosgene.) [LaDou, p. 564] Ozone is fibrogenic to the lungs in the context of an acute inhalation exposure complicated by bronchiolitis obliterans.
0.05 ppm(heavy work), 0.08 ppm (moderate work), 0.1 ppm (light work), 0.2 ppm (light, moderate, or heavy workload)
Excerpts from Documentation for IDLHs
Pulmonary edema developed in welders who had a severe acute exposure to an estimated 9 ppm ozone plus other air pollutants [Kleinfeld et al. 1957]. It has been reported that on the basis of animal data, exposure at 50 ppm for 60 minutes will probably be fatal to humans [King 1963].
Odor Threshold High
0.03 ppm
LC50 (rat) = 4.8 ppm/4 hr
Explanatory Notes
Odor threshold from AIHA; National Research Council [NRC 1984] Emergency Exposure Guidance Levels (EEGLs): 1­hour EEGL: 1 ppm; 24­hour EEGL: 0.1 ppm;
Diseases
Occupational diseases associated with exposure to this agent:
Processes
Industrial Processes with risk of exposure:
Activities
Activities with risk of exposure: