Potassium fluorotantalate
Agent Name
Potassium fluorotantalate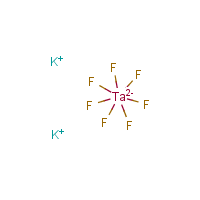 Synonyms
Dipotassium heptafluorotantalate; Dipotassium heptafluorotantalate (K2TaF7); Potassium fluotantalate; Potassium heptafluorotantalate; Potassium tantalum fluoride; Potassium tantalum fluoride (K2TaF7); Tantalate(2-), heptafluoro-, dipotassium; Tantalum potassium fluoride; [ChemIDplus]
Category
Metals, Inorganic Compounds
Description
White solid; [Hawley] White powder; [MSDSonline]
Sources/Uses
Used as intermediate for making pure tantalum; [Hawley]
Comments
An irritant; Effects in high-dose animal studies include convulsions; [MSDSonline] See "FLUORIDES." See "Tantalum, metal and tantalum oxide, dust."
Fluorides in urine = 2 mg/L prior to shift or 3 mg/L at end of shift; (Repeated measurements recommended.)
1 mg/m3, inhalable fraction, as F
Other Information
No other related information on this agent was found.