Tetrakis(hydroxymethyl)phosphonium sulfate
Agent Name
Tetrakis(hydroxymethyl)phosphonium sulfate
Formula
C8-H24-O8-P2.O4-S
Major Category
Other Classes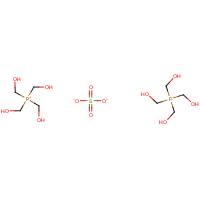 Synonyms
Bis(tetrakis(hydroxymethyl)phosphonium)sulfate (salt); Octakis(hydroxymethyl)phosphonium sulfate; Phosphonium, tetrakis(hydroxymethyl)-, sulfate (2:1) (salt); Pyroset TKO; THPS; Retardol S; [ChemIDplus]
Category
Phosphorus Compounds
Description
Crystalline solid; [ACGIH] Available commercially as an aqueous solution; [MSDSonline]
Sources/Uses
Used to make crease-resistant and flame-retardant finishes for textiles, e.g., children's sleepwear; [ACGIH] Also used as a biocide; [HSDB]
Comments
May cause sensitization by skin contact or inhalation; [CHEMINFO] Tetrakis (hydroxymethyl) phosphonium sulfate (THPS) was a sensitizer in 14 of 20 guinea pigs; Fabric impregnated with THPC or THPS does not cause skin sensitization. THPS did not inhibit acetylcholinesterase in vitro; Rats and mice given repeated high oral doses have liver damage; Degrades rapidly in the environment in the presence of moisture and sunlight into trihydroxymethyl phosphine oxide and bis-hydroxymethyl phosphonic acid; [ACGIH] Harmful if swallowed; Corrosive; Causes burns; May cause skin sensitization; Inhalation of high concentrations may cause pneumonitis and pulmonary edema; [Sigma-Aldrich MSDS] See "Tetrakis(hydroxymethyl)phosphonium chloride."
LC50 (Rat) = 5.5 mg/l/4 hr
Explanatory Notes
VP = 32 mm Hg @ 124 deg F; [CAMEO] Tetrakis(hydroxymethyl)phosphonium sulfate and Tetrakis(hydroxymethyl)phosphonium chloride are addressed by ACGIH in a single profile for Tetrakis(hydroxymethyl)phosphonium salts. See ACGIH Documentation of TLVs.
Hepatoxic (a) from occupational exposure (secondary effect) or (b) in animal studies or in humans after ingestion
Diseases
Occupational diseases associated with exposure to this agent:
Processes
Industrial Processes with risk of exposure: