Agent Name
Copper(I) iodide
Alternative Name
Cuprous iodide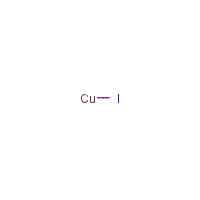 Synonyms
Copper iodide (CuI); Copper monoiodide; Copper(1+) iodide; Cuprous iodide; Hydro-Giene; Natural marshite; [ChemIDplus] UN3077
Category
Metals, Inorganic Compounds
Description
White to brownish-yellow solid; [Hawley] Insoluble in water; [Ullmann] White to light brown powder chunks with a weak odor; [Alfa Aesar MSDS]
Sources/Uses
Used in photography, light-sensitive papers, oil drilling (corrosion inhibitor), and to stabilize light and heat in polymers; Also used in cloud seeding and as a feed additive; Occurs in nature as marshite; [Ullmann] Used as a catalyst, ice-nucleating chemical, coating in cathode-ray tubes, temperature indicator (with mercuric iodide), nutritional supplement, bactericide, and oxidizing agent in lithium primary batteries; [HSDB]
Comments
A skin, eye, nose, and throat irritant; [HSDB] Acute copper poisoning after ingestion can cause liver injury, methemoglobinemia, and hemolytic anemia. Acute renal failure may result, secondary to massive hemoglobinuria. [Goldfrank, p. 1259] A skin and strong eye irritant; Harmful by ingestion; [Alfa Aesar MSDS] See "Copper."
1 mg/m3, as Cu [0.01 ppm, inhalable fraction and vapor (iodides)]
0.01 mg/m3, respirable fraction (Cu inorg. Cmpds.)
Explanatory Notes
The Guide in the Emergency Response Guidebook is for "Environmentally hazardous substances, solid, n.o.s."
MetHgb is secondary toxic effect
Hepatoxic (a) from occupational exposure (secondary effect) or (b) in animal studies or in humans after ingestion
Processes
Industrial Processes with risk of exposure: