Agent Name
Copper(II) acetate
Alternative Name
Cupric acetate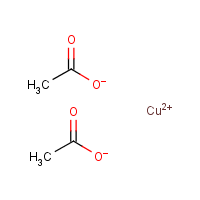 Synonyms
Acetate de cuivre [French]; Acetic acid copper(2+) salt; Acetic acid, copper(II) salt (2:1); Acetic acid, cupric salt; Copper acetate; Copper diacetate; Copper di(acetate); Copper(2+) acetate; Copper(2+) diacetate; Crystallized verdigris; Crystals of venus; Cupric acetate; Cupric diacetate; Neutral verdigris; Octan mednaty [Czech]; Venus copper; [ChemIDplus] UN3077
Category
Organic Acids, Metal Salts
Description
Blue-green hygroscopic solid; [HSDB] Green, odorless, hygroscopic crystals; Soluble in water; [Alfa Aesar MSDS]
Sources/Uses
Used to make Paris Green, as a catalyst, ceramic pigment, mildew preventative, shark repellent, preservative for cellulosic materials, stabilizer for polyurethanes and nylons, in textile dying, and veterinary medicine; Formerly used as a pesticide and fungicide; [HSDB]
Comments
A skin irritant; May cause severe eye injury; Inhalation of dust causes throat and lung irritation; Chronic exposure in dogs causes liver degeneration; [CHRIS] Acute copper poisoning after ingestion can cause liver injury, methemoglobinemia, and hemolytic anemia. Acute renal failure may result, secondary to massive hemoglobinuria. [Goldfrank, p. 1259] A severe eye irritant that may cause serious injury; Toxic by ingestion; [Alfa Aesar MSDS] See "Copper."
Not found in any pesticide products registered in the US; [NPIRS]
0.01 mg/m3, respirable fraction (Cu, inorganic cmpnds)
Explanatory Notes
The Guide in the Emergency Response Guidebook is for "Environmentally hazardous substances, solid, n.o.s."
MetHgb is secondary toxic effect
Hepatoxic (a) from occupational exposure (secondary effect) or (b) in animal studies or in humans after ingestion
Processes
Industrial Processes with risk of exposure:
Activities
Activities with risk of exposure: