Agent Name
Copper(II) bromide
Alternative Name
Cupric bromide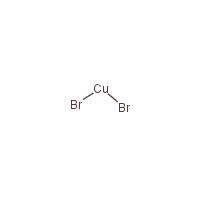 Synonyms
Copper bromide; Copper dibromide; Cupric bromide; [ChemIDplus] Cupric bromide, anhydrous; [CAMEO] UN3260
Category
Metals, Inorganic Compounds
Description
Almost black, deliquescent solid; Very soluble in water; [HSDB] Below 29 deg C, the green tetrahydrate forms; [Ullmann] Black, odorless, hygroscopic crystalline powder; [Alfa Aesar MSDS]
Sources/Uses
Used as an intensifier in photography, brominating agent in organic synthesis, humidity indicator, wood preservative, electrolyte in batteries, stabilizer for acetylated polyformaldehyde, in metal machining, removing lead from gasoline, copying processes, and sulfur extraction of oil; [HSDB]
Comments
A skin, eye, and respiratory tract irritant; May cause serious eye injury; [CAMEO] Acute copper poisoning after ingestion can cause liver injury, methemoglobinemia, and hemolytic anemia. Acute renal failure may result, secondary to massive hemoglobinuria. [Goldfrank, p. 1259] Causes burns; Inhalation may cause corrosive injuries to upper respiratory tract and lungs; Harmful by ingestion; [Alfa Aesar MSDS] See "Bromine." See "Copper."
0.01 mg/m3, respirable fraction (Cu, inorganic cmpnds)
Explanatory Notes
The Guide in the Emergency Response Guidebook is for "Corrosive solid, acidic, inorganic, n.o.s."
MetHgb is secondary toxic effect
Hepatoxic (a) from occupational exposure (secondary effect) or (b) in animal studies or in humans after ingestion
Processes
Industrial Processes with risk of exposure: