Agent Name
Perfluorobutyric acid
Major Category
Other Classes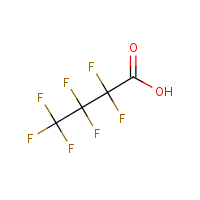 Synonyms
Heptafluoro-1-butanoic acid; Heptafluorobutanoic acid; Heptafluorobutyric acid; Kyselina heptafluormaselna [Czech]; Perfluorobutanoic acid; Perfluoropropanecarboxylic acid; Butanoic acid, 2,2,3,3,4,4,4-heptafluoro-; Butanoic acid, heptafluoro-; Butyric acid, heptafluoro-; [ChemIDplus] UN3265
Category
Perfluoroalkyl Acids
Description
Colorless liquid with an unpleasant odor; [MSDSonline]
Sources/Uses
Perfluorocarboxylic acids include Perfluoroacetic, Perfluoropropionic, Perfluorobutyric, Perfluorovaleric, Perfluorocaproic, Perfluoroheptanoic, Perfluorocaprylic, Perfluorononanoic, Perfluorocapric, Perfluoroundecanoic, and Perfluorododecanoic acid; These long-chain perfluoroalkanecarboxylic acids and their salts are used as wetting, dispersing, emulsifying, and foaming agents. They greatly reduce surface tension in aqueous solutions. [Ullmann]
Comments
Corrosive to skin and eyes; [eChemPortal: ERMA] A corrosive substance that can cause injury to the skin, eyes, and respiratory tract; Inhalation may cause chemical pneumonitis; [MSDSonline] See "Perfluorooctanoic acid." See "Perfluorooctane sulfonic acid."
Explanatory Notes
The Guide in the Emergency Response Guidebook is for "Corrosive solid, acidic, inorganic, n.o.s."
Other Information
No other related information on this agent was found.