Agent Name
Potassium periodate
Major Category
Other Classes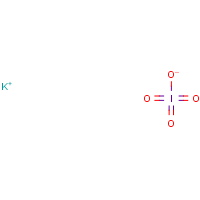 Synonyms
Periodic acid (HIO4), potassium salt; Periodic acid (HIO4), potassium salt (1:1); [ChemIDplus] Potassium metaperiodate; [Merck Index] UN1479
Category
Halogens, Inorganic Compounds
Description
Colorless or white solid; [Hawley] Colorless odorless powder; [MSDSonline]
Sources/Uses
Used as oxidizing agent (in acid solution) for manganese and organic compounds; [Merck Index]
Comments
A strong skin, eye, and mucous membrane irritant; [Merck Index] May cause fire on contact with organic substances; A strong oxidizing agent and irritant; [Hawley] A skin and eye irritant; [eChemPortal: ERMA] An oxidizing agent; May cause fire on contact with combustible material; An irritant; [MSDSonline] See "Metaperiodic acid."
Explanatory Notes
The Guide in the Emergency Response Guidebook is for "Oxidizing solid, n.o.s."
Other Information
No other related information on this agent was found.