Agent Name
Uranium triiodide
Major Category
Physical/Radiation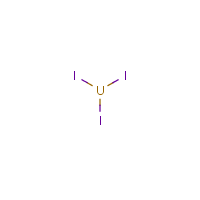 Synonyms
Uranium iodide (UI3); [ChemIDplus]
Category
Radioactive Compounds
Comments
See "Uranium" and the linked occupational disease. See "Iodine" for the TLV of Iodides.
Uranium in urine = 200 ug/L at end of shift; [ACGIH]
0.2 mg/m3, as U (0.01 ppm, inhalable fraction and vapor (iodides))
0.05 mg/m3, as U (sol), 0.25 mg/m3, as U (insol)
Other Information
No other related information on this agent was found.