Agent Name
Silver fluoride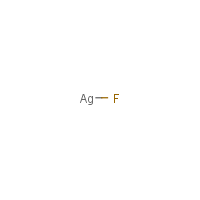 Synonyms
Silver(I) fluoride; [Aldrich MSDS] UN3260
Category
Metals, Inorganic Compounds
Description
Highly hygroscopic solid; Darkened by light; [Merck Index] Yellow to gray odorless solid; [CAMEO] Deep brown hygroscopic powder; [Aldrich MSDS] Soluble in water when freshly prepared; Gradually becomes insoluble in moist air; [Merck Index]
Sources/Uses
Used to convert organic bromine and chlorine compounds to their fluoro analogs and as a therapeutic antiseptic and anti-infective; [Merck Index] Silacide was registered in the US as a pesticide until 1989. [NPIRS]
Comments
Water solubility when fresh = 182 g/100 mL at 15.5 deg C; Gradually becomes insoluble in moist air due to formation of basic fluoride; Prolonged exposure may cause mottling of teeth and skeletal changes; [Merck Index] An eye, nose, and throat irritant; [CAMEO] Light sensitive; Causes burns; Inhalation can cause corrosive effects on the upper respiratory tract and lungs; Toxic by ingestion, inhalation, and skin absorption; May cause argyria; [Aldrich MSDS] See "FLUORIDES." See "Silver."
Fluorides in urine = 2 mg/L prior to shift or 3 mg/L at end of shift; (Repeated measurements recommended.)
2.5 mg/m3, as F (0.01 mg/m3, as Ag)
2.5 mg/m3, as F (0.01 mg/m3, as Ag)
1 mg/m3, inhalable fraction, as F (0.01 mg/m3 inhalable fraction, as Ag [salts])
Explanatory Notes
The Guide in the Emergency Response Guidebook is for "Corrosive solid, acidic, inorganic, n.o.s."
Processes
Industrial Processes with risk of exposure: