Agent Name
Barium fluoride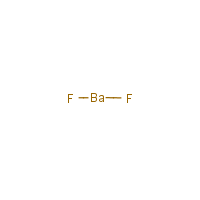 Synonyms
Baryum fluorure [French]; [ChemIDplus] UN1564
Category
Metals, Inorganic Compounds
Description
Transparent solid; Partially soluble in water (1.607 g/L at 20 deg C); [Merck Index] Colorless or white odorless lump; Slightly soluble in water; [Alfa Aesar MSDS]
Sources/Uses
Used as a flux in vitreous enamels and to make carbon brushes for electrical motors and generators; Also used in heat-treating metals and glass manufacturing; [Merck Index] Used as detector material in PET cameras; [ChemIDplus]
Comments
Poisonous; [Merck Index] Causes somnolence, dyspnea, and respiratory depression in oral lethal-dose study of rats; Causes urine changes, normocytic anemia, and weight loss in 17-week inhalation study of rats; [RTECS] An irritant; Harmful by ingestion and inhalation; [Alfa Aesar MSDS] See "Barium."
Fluorides in urine = 2 mg/L prior to shift or 3 mg/L at end of shift; (Repeated measurements recommended.)
0.5 mg/m3, as Ba (2.5 mg/m3, as F)
0.5 mg/m3, as Ba (2.5 mg/m3, as F)
0.5 mg/m3, as Ba, inhalable fraction(soluble compds) [1 mg/m3, as F, inhalable fraction]
Explanatory Notes
The Guide in the Emergency Response Guidebook is for "Barium compound, n.o.s."
Processes
Industrial Processes with risk of exposure:
Activities
Activities with risk of exposure: