Agent Name
2-Ethoxyethanol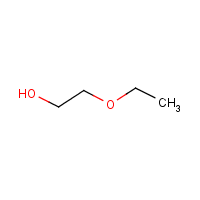 Synonyms
2-Ethoxyethanol; 2-Ethoxyethyl alcohol; Bikanol E 1; Cellosolve; Cellosolve solvent; Dowanol 8; Dowanol EE; EGEE; Ektasolve EE; Emkanol; Ethanol, 2-ethoxy-; Ethyl cellosolve; Ethyl ethylene glycol; Ethylene glycol ethyl ether; Ethylene glycol monoethyl ether; Ethylethylene glycol; Glycol monoethyl ether; Hydroxy ether; Jeffersol EE; Oxitol; Plastiazan 60; Poly-Solv EE; RCRA waste number U359; Solvid; Solvulose; beta-Ethoxyethanol; [ChemIDplus] UN1171
Category
Glycol Ethers (E Series)
Description
Colorless liquid with a sweet, pleasant, ether-like odor; [NIOSH]
Sources/Uses
Used as an industrial solvent and anti-icing additive to aviation fuels; [ACGIH] Used as a solvent for coatings, inks, adhesives, textile dyes, lacquers, and epoxy resins; [HSDB] Not produced commercially in the EU; [Glycol Ethers Online]
Comments
Changes in the lungs, kidneys, liver, and spleen are seen in mice after 7-hour lethal concentration studies. For ethylene glycol ethers, there is limited positive evidence of spontaneous abortions and decreased sperm counts in humans and strong positive evidence of birth defects and testicular damage in animals. [ATSDR Case Studies # 29] Labeled as "May impair fertility" and "May cause harm to the unborn child" by EU regulations; [Glycol Ethers Online] See "Glycol ethers."
2-Ethoxyacetic acid in urine = 100 mg/g creatinine; end of shift at end of workweek;
2 ppm, sum of the concentrations of CAS 110-80-5 and its acetate in air
Excerpts from Documentation for IDLHs
Other animal data: Some investigators have stated that at ordinary room temperatures substantially saturated atmospheres (i.e., about 6,000 ppm) will not produce serious injury in 1 hour [Waite et al. 1930]. \ Human data: Volunteers with some work experience reported that odor levels of 125 ppm were noticeable and that the odor level that would be intolerable was greater than 255 ppm [Clayton and Clayton 1982].
Odor Threshold High
24 ppm
LC50 (rat) = 2,000 ppm/7 hr
Explanatory Notes
Detection odor threshold from AIHA (mean = 2.7 ppm); Flash point = 43 deg C; VP from HSDB; See 2022 "Notice of Intended Changes" for BEI; [ACGIH TLVs and BEIs]
high ambient temp required
Hepatoxic (a) from occupational exposure (secondary effect) or (b) in animal studies or in humans after ingestion
Diseases
Occupational diseases associated with exposure to this agent:
Processes
Industrial Processes with risk of exposure: