Ferrous chloride tetrahydrate
Agent Name
Ferrous chloride tetrahydrate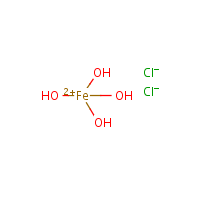 Synonyms
Ferrous chloride, tetrahydrate; Iron (II) chloride, tetrahydrate; Iron chloride tetrahydrate; Iron dichloride tetrahydrate; Iron(2+) chloride, tetrahydrate; [ChemIDplus] UN3260
Category
Metals, Inorganic Compounds
Description
Pale green to blue-green solid; Soluble in water; [Merck Index] Light green fine crystals and fragments; Hygroscopic; [Sigma-Aldrich MSDS]
Sources/Uses
Used in metallurgy, as a reducing agent, in pharmaceutical preparations, and as a mordant in dyeing; [Merck Index]
Comments
May cause irritation and liver injury; [Merck Index] Causes burns; Inhalation may cause corrosive injuries to upper respiratory tract and lungs; Harmful by ingestion; [Sigma-Aldrich MSDS] See "Ferrous chloride." See "Iron salts, soluble."
1 mg/m3, as Fe (soluble iron salts)
Explanatory Notes
The Guide in the Emergency Response Guidebook is for "Corrosive solid, acidic, inorganic, n.o.s."
Hepatoxic (a) from occupational exposure (secondary effect) or (b) in animal studies or in humans after ingestion
Processes
Industrial Processes with risk of exposure: