Agent Name
Aluminum fluoride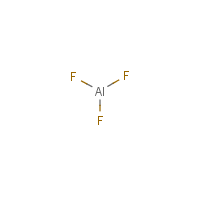 Synonyms
Aluminium fluorure [French]; Aluminum trifluoride; Fluorid hlinity [Czech]; [ChemIDplus] UN1759
Category
Metals, Inorganic Compounds
Description
White solid; [Hawley] Hygroscopic; [ICSC] Odorless powder; [MSDSonline]
Sources/Uses
Used in ceramics; as flux in metallurgy, ceramic glazes, and enamels; in aluminum manufacture (to lower the melting point and increase the conductivity of the electrolyte); as inhibitor of fermentation; as catalyst in organic reactions; in the manufacture of aluminum silicate; [HSDB]
Comments
A severe eye irritant; A respiratory tract irritant; [HSDB] A skin, eye, and respiratory tract irritant; "Repeated or prolonged inhalation exposure may cause asthma. The substance may have effects on the bone, nervous system, resulting in bone alterations (fluorosis), and nervous system impairment." [ICSC] A corrosive substance that can cause injury to the skin, eyes, and respiratory tract; Inhalation may cause chemical pneumonitis; [MSDSonline] See "FLUORIDES."
Fluorides in urine = 2 mg/L prior to shift or 3 mg/L at end of shift; (Repeated measurements recommended.)
1 mg/m3, inhalable fraction, as F
Explanatory Notes
VP = 1 mm Hg at 1238 deg C; [HSDB] The Guide in the Emergency Response Guidebook is for "Corrosive solid, n.o.s."
Diseases
Occupational diseases associated with exposure to this agent:
Processes
Industrial Processes with risk of exposure:
Activities
Activities with risk of exposure: