Agent Name
Cadmium acetate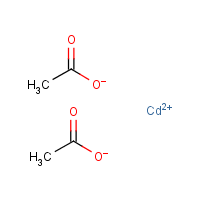 Synonyms
Acetic acid, cadmium salt; Bis(acetoxy)cadmium; C.I. 77185; CI 77185; Cadmium diacetate; Cadmium ethanoate; Cadmium(II) acetate; [ChemIDplus] UN2570
Category
Cadmium Compounds, Inorganic
Description
Colorless solid; [HSDB] White powder; [MSDSonline]
Sources/Uses
Used in iridescent glazes (porcelains and pottery), electroplating, colorants for glass and textiles, and as a reagent for chemical analysis; [HSDB] Used to produce acetates; [Hawley]
Comments
An eye and respiratory tract irritant; May cause damage to lungs, liver, and kidneys; [HSDB] Cadmium compounds are potential carcinogens that are toxic to the kidneys, bone, and respiratory tract. [ICSC] An irritant; May be absorbed through skin; [MSDSonline] See "Cadmium" and the linked diseases.
Cd in urine = 5 ug/g creatinine; Cd in blood = 5 ug/L; sampling time not critical; "Monitoring in blood should be preferred during the initial year of exposure and whenever changes in the degree of exposure are suspected." [ACGIH]
0.01 mg/m3, as Cd ( 0.002 mg/m3, as Cd, respirable fraction )
0.005 mg/m3, as Cd, see 29 CFR 1910.1027
Explanatory Notes
The Guide in the Emergency Response Guidebook is for "Cadmium compound."
Hepatoxic (a) from occupational exposure (secondary effect) or (b) in animal studies or in humans after ingestion
Diseases
Occupational diseases associated with exposure to this agent:
Processes
Industrial Processes with risk of exposure:
Activities
Activities with risk of exposure: