Agent Name
Cadmium sulfate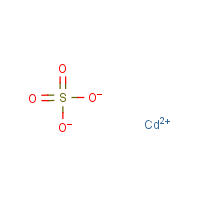 Synonyms
Cadmium monosulfate; Cadmium sulfate (1:1); Cadmium sulfuricum; Cadmium sulphate; Sulfuric acid, cadmium salt (1:1); Sulphuric acid, cadmium salt (1:1); [ChemIDplus] UN2570
Category
Cadmium Compounds, Inorganic
Description
Colorless solid; [Hawley] White solid; [ICSC] White crystalline solid, hygroscopic and soluble in water; [MSDSonline]
Sources/Uses
Used in electrodeposition (cadmium, copper, and nickel), phosphors, catalysts, nematocides, fungicides, bactericides, lubricants, and Weston cell electrolytes; [Merck Index] Used in pigments and electroplating; [Hawley] Used as an accelerator in cement formation; [HSDB]
Comments
A respiratory tract irritant; "The substance may have effects on the kidneys and bones, resulting in kidney impairment and osteoporosis."; [ICSC] An irritant; Oral LD50 (rat) = 280 mg/kg; Cadmium compounds are potential carcinogens that are toxic to the kidneys, liver, and respiratory tract. [MSDSonline] See "Cadmium" and the linked diseases.
Cd in urine = 5 ug/g creatinine; Cd in blood = 5 ug/L; sampling time not critical; "Monitoring in blood should be preferred during the initial year of exposure and whenever changes in the degree of exposure are suspected." [ACGIH]
0.01 mg/m3, as Cd ( 0.002 mg/m3, as Cd, respirable fraction)
0.005 mg/m3, as Cd, see 29 CFR 1910.1027
Explanatory Notes
The Guide in the Emergency Response Guidebook is for "Cadmium compound."
Hepatoxic (a) from occupational exposure (secondary effect) or (b) in animal studies or in humans after ingestion
Diseases
Occupational diseases associated with exposure to this agent:
Processes
Industrial Processes with risk of exposure: