Agent Name
Cadmium sulfide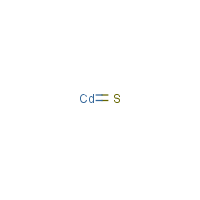 Synonyms
Aurora Yellow; C.I. Pigment Yellow 37; C.P. Golden Yellow 55; Cadmium Orange; Cadmium Sulfide Yellow; Cadmium Yellow; Cadmium Yellow 000; Cadmium Yellow 10G Conc; Cadmium Yellow 892; Cadmium Yellow Conc. Deep; Cadmium Yellow Conc. Golden; Cadmium Yellow Conc. Lemon; Cadmium Yellow Conc. Primrose; Cadmium Yellow OZ Dark; Cadmium Yellow Primrose 47-4100; Cadmium Golden 366; Cadmium Lemon Yellow 527; Cadmium monosulfide; Cadmium Primrose 819; Cadmium sulfuratum; Cadmium sulphide; Cadmopur Golden Yellow N; Cadmopur Yellow; Capsebon; Ferro Lemon Yellow; Ferro Orange Yellow; Ferro Yellow; GSK; Greenockite; Jaune Brilliant; Orange Cadmium; PC 108; Primrose 1466; [ChemIDplus] UN2570
Category
Cadmium Compounds, Inorganic
Description
Yellow or brown solid; Forms a colloid in hot water; [Hawley] Light yellow or orange solid; [Merck Index] Yellow odorless pieces; [MSDSonline]
Sources/Uses
Used as a pigment (plastics, paints, soaps, rubber, paper, glass, printing inks, ceramic glazes, textiles, and fireworks) and in phosphors, fluorescent screens, scintillation counters, semiconductors, photoconductors, solar cells, photomultipliers, radiation detectors, thin-film transistors, diodes/rectifiers, electron-beam pumped lasers, and smoke detectors; Also used to stabilized high-density polyethylene and in lead sealing glass binders; [HSDB] Occurs naturally in greenockite; [Ullmann]
Comments
An irritant; May cause effects on the kidneys, bones, and respiratory tract; [ICSC] An irritant; Cadmium compounds are potential carcinogens that are toxic to the kidneys, liver, and respiratory tract. "The heavy metal sulfides are generally insoluble and show little toxic action except through the liberation of hydrogen sulfide." [MSDSonline] See "Cadmium" and the linked diseases.
Cd in urine = 5 ug/g creatinine; Cd in blood = 5 ug/L; sampling time not critical; "Monitoring in blood should be preferred during the initial year of exposure and whenever changes in the degree of exposure are suspected." [ACGIH]
0.01 mg/m3, as Cd( 0.002 mg/m3, as Cd, respirable fraction)
0.005 mg/m3, as Cd, see 29 CFR 1910.1027
Explanatory Notes
The Guide in the Emergency Response Guidebook is for "Cadmium compound."
Hepatoxic (a) from occupational exposure (secondary effect) or (b) in animal studies or in humans after ingestion
Diseases
Occupational diseases associated with exposure to this agent:
Processes
Industrial Processes with risk of exposure:
Activities
Activities with risk of exposure: