Agent Name
Tellurium hexafluoride
Major Category
Toxic Gases & Vapors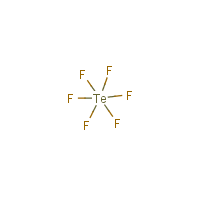 Synonyms
Tellurium fluoride; [NIOSH] UN2195
Description
Colorless gas with a repulsive odor. MW: 241.6; [NIOSH]
Sources/Uses
A byproduct of ore refining; [ACGIH]
Comments
Estimated to be 2.5 times more toxic than ozone, tellurium hexafluoride causes pulmonary edema in experimental animals at relatively low concentrations. Two cases of poisoning occurred after a leak in a laboratory. Patients complained of metallic taste, rash, fatigue, and garlic odor of the breath and urine. [ACGIH] IDLH = 1 ppm; [NIOSH] See "Tellurium."
Fluorides in urine = 2 mg/L prior to shift or 3 mg/L at end of shift; (Repeated measurements recommended.)
0.1 mg/m3, as Te (2.5 mg/m3 as F)
0.1 mg/m3, as Te (2.5 mg/m3 as F)
1 mg/m3, as F, inhalable fraction
Excerpts from Documentation for IDLHs
Other animal data: It has been reported that animals showed evidence of pulmonary edema (disturbed breathing) at the lowest exposure tested, 1 ppm for 4 hours; a 1­hour exposure at 1 ppm produced greatly accelerated respiration but no mortality [Kimmerle 1960].
Diseases
Occupational diseases associated with exposure to this agent:
Processes
Industrial Processes with risk of exposure: