Agent Name
Cadmium cyanide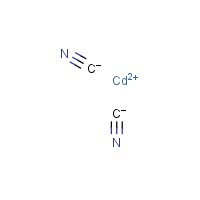 Synonyms
Cadmium dicyanide; Cadmium cyanide (Cd(CN)2); [ChemIDplus] UN2570
Category
Cadmium Compounds, Inorganic
Description
White solid; Slightly soluble in water (1.71 g/100mL at 15 deg C); [Merck Index]
Sources/Uses
Used in copper bright electroplating; [Merck Index]
Comments
Stable when stored in the absence of air and moisture; [Ullmann] Very toxic; [MSDSonline] See "CYANIDES." See "Cadmium" and the linked diseases.
Cd in urine = 5 ug/g creatinine; Cd in blood = 5 ug/L; sampling time not critical; "Monitoring in blood should be preferred during the initial year of exposure and whenever changes in the degree of exposure are suspected." [ACGIH]
0.01 mg/m3, as Cd ( 0.002 mg/m3, as Cd, respirable fraction)
0.005 mg/m3, as Cd, see 29 CFR 1910.1027, (5 mg/m3, as CN)
2 mg/m3, inhalable fraction, as CN
9 mg/m3, as Cd (25 mg/m3, as CN)
Explanatory Notes
The Guide in the Emergency Response Guidebook is for "Cadmium compound."
Other Poison
Chemical Asphyxiant
Diseases
Occupational diseases associated with exposure to this agent:
Processes
Industrial Processes with risk of exposure: