Agent Name
Cadmium fluoride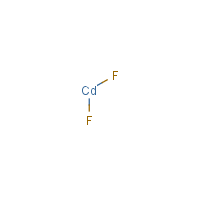 Synonyms
Cadmium difluoride; Cadmium fluorure [French]; [ChemIDplus] UN2570
Category
Cadmium Compounds, Inorganic
Description
Solid; [Merck Index] White odorless chunks; [MSDSonline]
Sources/Uses
Used in phosphors, glass, and nuclear reactor controls; [Merck Index] Used in high-temperature lubricants and to start crystals for lasers; [Hawley] Use is highly restricted in the EU; [eChemPortal: ESIS: EDEXIM]
Comments
Very toxic by inhalation; [eChemPortal: ESIS] An irritant; Very toxic by inhalation or ingestion; A reproductive toxin in animal experiments; [MSDSonline] See "Cadmium" and the linked diseases.
Cd in urine = 5 ug/g creatinine; Cd in blood = 5 ug/L; sampling time not critical; Fluorides in urine = 2 mg/L prior to shift or 3 mg/L at end of shift; (Repeated measurements recommended.)
0.01 mg/m3, as Cd ( 0.002 mg/m3, as Cd, respirable fraction) [2.5 mg/m3, as F]
0.005 mg/m3, as Cd, see 29 CFR 1910.1027 [2.5 mg/m3, as F]
1 mg/m3, inhalable fraction, as F
Explanatory Notes
The Guide in the Emergency Response Guidebook is for "Cadmium compound."
Diseases
Occupational diseases associated with exposure to this agent:
Processes
Industrial Processes with risk of exposure: