Agent Name
Cadmium sulfate hydrate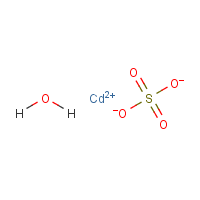 Synonyms
Cadmium sulfate hydrate (3:8); Cadmium sulfate octahydrate; Cadmium sulphate octahydrate; Sulfuric acid, cadmium salt, hydrate; Cadmium sulfate (1:1) hydrate (3:8); [ChemIDplus] UN2570
Category
Cadmium Compounds, Inorganic
Description
Colorless odorless solid; [Hawley] Fine white crystals; [MSDSonline] Loses water when heated to >40 deg C and forms monohydrate when heated to >80 deg C; [Merck Index]
Sources/Uses
Used in electrodeposition (cadmium, copper, and nickel), phosphors, catalysts, nematocides, fungicides, bactericides, lubricants, and Weston cell electrolytes; [Merck Index] Used in pigments and electroplating; [Hawley]
Comments
May cause irritation; Cadmium compounds are carcinogenic and may cause damage to kidneys and lungs; [MSDSonline] See "Cadmium" and the linked diseases.
Cd in urine = 5 ug/g creatinine; Cd in blood = 5 ug/L; sampling time not critical; "Monitoring in blood should be preferred during the initial year of exposure and whenever changes in the degree of exposure are suspected." [ACGIH]
0.01 mg/m3, as Cd ( 0.002 mg/m3, as Cd, respirable fraction)
0.005 mg/m3, as Cd, see 29 CFR 1910.1027
Explanatory Notes
The Guide in the Emergency Response Guidebook is for "Cadmium compound."
Diseases
Occupational diseases associated with exposure to this agent:
Processes
Industrial Processes with risk of exposure: