Agent Name
Copper(II) nitrate
Alternative Name
Cupric nitrate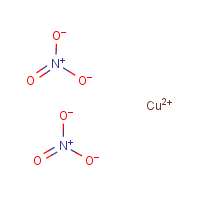 Synonyms
Cupric nitrate; Claycop; Copper dinitrate; Copper(2+) nitrate; Cupric dinitrate; Nitric acid, copper(2+) salt; Copper nitrate; [ChemIDplus] UN1477
Category
Metals, Inorganic Compounds
Description
Blue-green deliquescent solid; Soluble in water; [Merck Index] Blue deliquescent crystals; Soluble in water; [MSDSonline]
Sources/Uses
Used in light sensitive reproductive papers, nickel plating baths, pesticides (wood preservatives, fungicides, herbicides, and insecticides), pyrotechnic compositions, aluminum brighteners, solid rocket fuel catalysts, paints/varnishes, drugs, flotation of cinnabar, cancer treatment, electrolysis and electroplating, and electronics; Also used as a ceramic color, a mordant and oxidant in textile dyeing and printing, a metal coloring reagent (burnishing iron, giving a black "antique" finish to copper, and coloring zinc brown), a nitrating agent for aromatic organosilicon compounds, an organic catalyst, a drilling mud dispersant, and a corrosion inhibitor; [HSDB]
Comments
An oxidizer which may violently combust or explode on contact with organic materials; [Hawley] A skin, eye, and respiratory tract irritant; May cause serious damage to eyes; [HSDB] Contact with solid causes eye burns and skin irritation; [CHRIS] A corrosive substance that can cause injury to the skin, eyes, and respiratory tract; Inhalation may cause chemical pneumonitis and pulmonary edema; May cause skin sensitization; [MSDSonline] See "NITRATES and NITRITES." See "Copper."
0.01 mg/m3, respirable fraction (Cu, inorganic cmpnds)
Explanatory Notes
The Guide in the Emergency Response Guidebook is for "Nitrates, inorganic, n.o.s."
MetHgb is secondary toxic effect
Hepatoxic (a) from occupational exposure (secondary effect) or (b) in animal studies or in humans after ingestion
Processes
Industrial Processes with risk of exposure:
Activities
Activities with risk of exposure: