Major Category
Toxic Gases & Vapors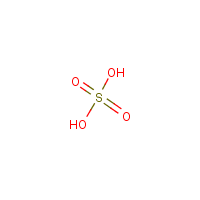 Synonyms
Acide sulfurique [French]; Acido solforico [Italian]; Acido sulfurico [Spanish]; Acidum sulfuricum; BOV; Battery acid; Dihydrogen sulfate; Dipping acid; Electrolyte acid; Hydrogen sulfate; Mattling acid; Oil of vitreol; Oil of vitriol; Schwefelsaeure; Schwefelsaeureloesungen [German]; Sulfuric acid; Sulphuric acid; Vitriol Brown Oil; Zwavelzuuroplossingen [Dutch]; [ChemIDplus] UN1830; UN1832; UN2796
Category
Acids, Inorganic
Description
Colorless to dark-brown, oily, odorless liquid. [Note: Pure compound is a solid below 51 degrees F. Often used in an aqueous solution.]; [NIOSH]
Sources/Uses
Used in the fertilizer, petroleum refining, and battery industries; also used in metal cleaning and electroplating; [ACGIH] Used in printing, publishing, and photography shops; [ATSDR ToxFAQs] Used as a wet etchant in semiconductor manufacturing at a standard concentration of 96%; [CSH, p. 46]
Comments
77%-98% acid causes second or third degree burns after short contact; [CHRIS] Solutions <30% are corrosive; solutions >30% are highly corrosive; [Quick CPC] "Human carcinogen" designation refers to sulfuric acid contained in strong inorganic acid mists. A corrosive substance that can cause pulmonary edema; [ICSC] May cause erosion of teeth enamel; [HSDB] See "Strong inorganic acid mists."
0.2 mg/m3, thoracic fraction
0.1 mg/m3, inhalable fraction
Excerpts from Documentation for IDLHs
In exposures of 5 to 15 minutes, some volunteers found 5 mg/m3 to be very objectionable, while others found it less so [Amdur et al. 1952b].
LC50 (rat) = 510 mg/m3/2h
Explanatory Notes
Odor threshold from AIHA; The Guide from the Emergency Response Guidebook is for "Sulfuric acid, fuming." VP from HSDB;
Diseases
Occupational diseases associated with exposure to this agent:
Processes
Industrial Processes with risk of exposure:
Activities
Activities with risk of exposure: